Discover more from Network Notes
A newsletter about the music industry, technology, marketing, and the intersection of all three, brought to you by the strategic marketing agency Motive Unknown.
Over 3,000 subscribers
🔵 Chatting music and marketing with Sean Adams
All the day's news, plus a podcast deep dive into music and marketing
Hi there -
I am keeping today's update short, because instead of reading my thoughts here, I'd prefer you go and listen to them on the
podcast, which I recorded last night with
.
On the podcast we talk about music, marketing and money, and touch on marketing strategies, the state of the music publications market, why I feel the indies could be doing more to support the ecosystem, and various other topics.
It was a great discussion, and certainly for any artists reading I'd say it might well contain some truly practical advice.
To listen, simply click below or click here to find your player of choice:
Full updates will resume tomorrow!
Have a great evening,
D.
🎶 listening to "An Honest Meal" by Unkle G. The Equiknoxx crew are reshaping dancehall - if we can even call it that - taking in influences from a far wider spectrum of genres, and often fusing it with a humour that you rarely see in this space. One of the Equiknoxx crew, Gavsborg, is responsible for this Unkle G album, and it's a true breath of fresh air. Take a listen and you'll see what I mean.
🤖 playing with ChatGPT's, er, GPTs. GPTs are now "build your own AI" bots, so if you're not already immersing yourself in this space, do so now. A good example is the Copy Editor GPT that Platformer's Casey Newton created, which just checks your writing for grammatical errors, typos and more. Incredibly handy.
📺 watching "Ego: The Michael Gudinski Story | Official Trailer" on YouTube. Sod's law would have it that I am busy on the night Mushroom is screening this doc, which from the trailer looks to be fantastic. Check it out - well worth your time.
Stories from the Music Industry:
YouTube has unveiled its first music chart devoted to the tracks being used for YouTube Shorts. Well, we say 'chart' – there are actually two versions, one daily and one weekly. The new rankings are initially launching in countries including the US, UK, Canada, Japan and Mexico, plus a global chart. The latter is an interesting insight, because Indian music is dominating it: the majority of the top 20 at the time of writing are by Indian artists.
👆🏻Hot take: one to keep an eye on. Also hoping this data will eventually pipe out into the likes of Soundcharts in the same manner as TikTok's charts.
YouTube says the penalties for not labelling AI-generated content accurately will vary, but could include takedowns and demonetization. But it's not clear how YouTube will know if an unlabelled video was actually generated by AI — YouTube's Malon says the platform is "investing in the tools to help us detect and accurately determine if creators have fulfilled their disclosure requirements when it comes to synthetic or altered content," but those tools don't exist yet and the ones that do have notoriously poor track records.
👆🏻Hot take: what's interesting here is that this announcement doesn't seem to actually detail how things will be policed or what actions will be taken from there. It is more a statement of intent and…that's it.
The news was announced yesterday, with WMG joining Universal Music Group as part of the new scheme in France, the first market where it has been introduced. The announcement came in an article on French news site Les Echos. "We are delighted to partner with Deezer on this 'artist-centric' model, which rewards music that generates active engagement, and demonetises non-music content," said Warner Music France president Alain Veille.
👆🏻Hot take: inevitable really, IMO. The majors try to hold out (though usually Warner is the final one to sign on) so I'd imagine it's only time before Sony comes on board too.
TikTok has launched a new feature called "Add to Music App" that lets its users save songs they discover via TikTok on the streaming services where they listen to their music. According to an announcement from TikTok on Tuesday (November 14), the Add to Music App feature is launching "in partnership with the major music streaming services, including Amazon Music and Spotify".
👆🏻Hot take: great to see. I hope that in time TikTok might afford more insight to artists and their teams too, allowing them to see how many clicks out it drove etc.
BandLab Distribution is exclusively available through BandLab's $14.95 a month membership plan and offers distribution to services like Spotify, Apple Music, Amazon Music, and TikTok. According to the platform's FAQs, artists keep 100% of their royalties via the distribution service but will need to maintain an active membership to do so.
👆🏻Hot take: a logical move to make. Distribution is almost getting to be the cheap, easily accessible feature bolted onto most things related to making music.
Stories from the Broader World of Tech:
OpenAI today announced Data Partnerships, an effort to collaborate with third-party organizations to build public and private data sets for AI model training. In a blog post, OpenAI says Data Partnerships is intended to "enable more organizations to help steer the future of AI" and "benefit from models that are more useful."
👆🏻Hot take: is this a concession in context of that wider debate about data sets and permissions? I feel it might be.
WhatsApp is rolling out a new Discord-like voice chat feature for large groups, the Meta-owned company announced on Monday. The new feature is designed to be less disruptive than a group call, which rings every member in a group. Voice chats are started quietly without any ringing involved with an in-chat bubble that you tap to join.
👆🏻Hot take: a sensible addition, if nothing else. (Honestly I thought this was possible before now!)
Need something else to read? Here you go:
For two years, an online community has sifted through potential leads on the origins of a catchy, 1980s-style tune, but answers remain out of reach
👆🏻Hot take: an endearing tale of a track no one has been able to identify. In today's "AI can recognise that from 2s of audio" times, there's something oddly great about that.
Those who are trying (including Tom Perrotta, Ayad Akhtar, and more) tell us what it's like.
👆🏻Hot take: many parallels to be found with the music world here - and sadly not in a positive way.
The latest from Motive Unknown's world: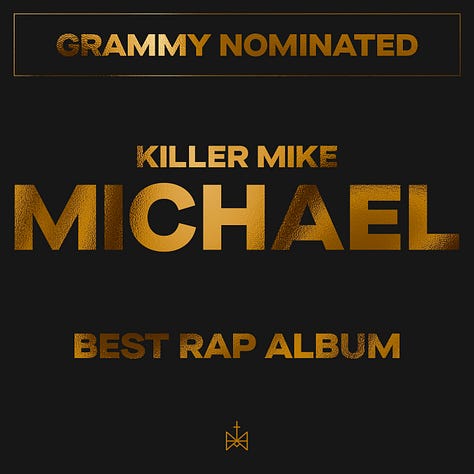 Huge congratulations to Killer Mike on not one, not two, but THREE Grammy nominations!! Best Rap Album, Best Rap Performance and Best Rap Song!
What a campaign to work on; much love to the Loma Vista team and the champs at Active Management who have been a total joy to work with. Now the fun really starts!
Thanks for reading Network Notes! Subscribe for free to receive new posts and support my work.